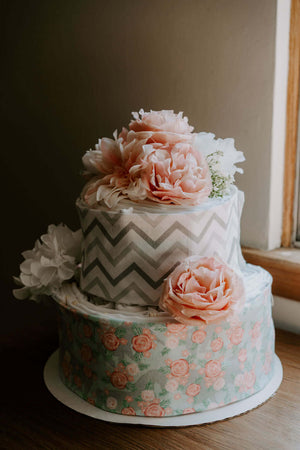 Cloth Diaper Cake
Sale price Price $127.00 Regular price
Our elegant two-tier diaper cake is the perfect centerpiece for your baby shower. It includes 56 newborn-sized OsoCozy cotton prefolds. You have the option of purchasing a plain cake that you can decorate yourself, or we can decorate it for you according to your shower theme. 
Includes complimentary delivery on the day of your choice. 
Your gift recipient is welcome to keep the diapers if she is planning on DIY cloth diapering. Alternatively, she also has the option to give the diapers back to us in exchange for four weeks of cloth diapering service. You are welcome to purchase additional weeks along with your diaper cake using our gift cards.
Please place your order at least one week before you would like the cake delivered. If you choose the custom-designed option, please text us pictures of your theme at (414) 755-1744. 
10.5" tall and 13" wide