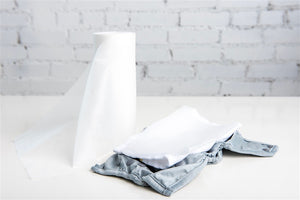 OsoCozy Biodegradable Liners
Sale price Price $8.00 Regular price
Make cloth diapering easier by using this flushable liner that is safe to dispose of in the toilet or trash. Please note that it may not be safe for all septic tanks.
The OsoCozy Biodegradable Liner is used by laying it on top of the inside of a diaper. Solid waste can then easily be lifted out of a soiled diaper and disposed of. This helps minimize odors.
This is also required when putting diaper rash creams on your baby that are not cloth diaper friendly. It protects the cloth diaper from ingredients that will decrease its absorbability. 
OsoCozy Biodegradable Liners come in a pack of 100 and each liner is a generous 7.5" x 10.5". Made of 100% viscose rayon.