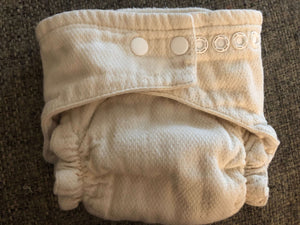 Fitted Cloth Diaper Subscription
Sale price Price $160.00 Regular price
 Our fitted cloth diapers are the perfect solution for parents who want simple and quick diaper changes with no folding required! 
 Subscription Details: 
- This is for a four week subscription at $50 per week for all fitted diapers (up to 70) and $40 a week for half fitted diapers (up to 35) and half prefolds. 
- No need to rinse or spray off the diapers. Just toss them in your diaper pail with the snaps undone and set them out for pickup once a week. 
- Our OsoCozy fitted diapers are made with thick layers of absorbent cotton fabric and are designed to be worn under a waterproof diaper cover.
- The diaper covers are made with high quality waterproof PUL and come in dozens of adorable prints and patterns.
- This subscription includes the rental of: 100% cotton fitted diapers, 6 diaper covers,  2 laundry transport bags, weekly delivery and pickup, and cloth diapering help and support. 
- This subscription is only available in our Milwaukee location. For our Dallas location please see our all-in-two diaper subscription.
(Washing the diaper covers is not included. We do offer a subscription add-on of $10.00 a week that includes the washing of your diaper covers along with additional covers.)
We also recommend purchasing a wet bag to store dirty diapers in when you are out and about. 
Read our Terms of Service here. 
Watch our video on how to use our diapers here: 
Online Cloth Diapering Class from Wholesome Diaper Co. on Vimeo.